Since rapid industrialization began in Britain, manufacturers have pursued ways to continually enhance their processes and maintain the quality and consistency of their products.  Now, with the emergence of Industry 4.0 technologies, factories have an opportunity to fine-tune their improvement strategies with modern, cutting-edge technology. In this article, we observe how one of these strategies – lean manufacturing – is merging with industry 4.0 to give rise to the concept of digital lean thereby digitally transforming the manufacturing industry and improving processes in areas like safety, quality, and asset maintenance.
What is lean manufacturing?
Simply put, lean is the 'shedding away' of anything that does not add value. Applied to the manufacturing industry, the lean concept proposes that factories enhance efficiency by (continually) tweaking, changing, or altogether eliminating futile processes and procedures. The term derives its origins from Japanese multinational automotive manufacturer, Toyota. In the 1950s, the company desired greater agility in its plants and faster production. They wanted to shelve aside redundant processes and continually churn out high-quality products. They chose to be lean.
As of 2014, 29% of manufacturers had implemented or planned to implement lean manufacturing
Today, traditional lean methods are commonplace in many factories around the world where they gain application in areas like resource-optimization, quick resolution of bottlenecks, and reduction of production costs.
Examples of these traditional methods are Kanban boards, Kaizen (continuous improvement), Poka-yoke (error-proofing), and 5s (for workplace hygiene and housekeeping).
Industry 4.0 
Industry 4.0 is manufacturing's fourth wave of industrial development. It covers digital tools and working aids that streamline production processes while enhancing the safety of workers and the efficiency of their work. These tools include:
Augmented and virtual reality
Robotics and automation
Cloud computing
Machine learning and artificial intelligence
Additive manufacturing processes, and
IoT
Relevant to lean manufacturing, industry 4.0 technologies provide abundant data that cuts across a swathe of factory assets and can be subjected to advanced analytic techniques.
The meeting point: digital lean
The world of manufacturing has changed since the 1950s. Firstly, modern equipment, with the complexity of its designs, poses unique operational/ maintenance challenges that can easily undermine a factory's health, safety, and environmental management system. In addition, the consequence of increased diversification of products means that production lead times have naturally become longer. The speed and accuracy of supply chains have never assumed more importance.
Traditional lean concepts, while practical in some instances, are not suited to tackle the current manufacturing landscape. Here's where digital lean comes in.
Industry 4.0 + lean manufacturing = digital lean 
Digital lean, also called lean industry 4.0, is a term that describes the enhancement of traditional lean methods with industry 4.0 capabilities. It offers a targeted approach for identifying and eliminating process waste in plants. Here, the digital tools provide data (lots of data!) that factories, combining with traditional lean, can harness to gather insight and shed away redundant processes in plants.
The global market size for digital transformation in manufacturing was valued at $263.93 billion in 2020 and is anticipated to nearly triple to $767.82 billion by 2026
Combining traditional lean methods with industry 4.0 improves the speed and efficiency of the lean process, and allows manufacturers to build on the initial momentum that the traditional tools proffer. Beneficially, industry 4.0 technologies do not just provide data. But through enhanced analytic techniques i.e., machine learning and artificial intelligence, they also provide a means of analyzing the data and obtaining valuable insights from where decisions – consistent with traditional lean – can be made.
See also: What is a smart factory?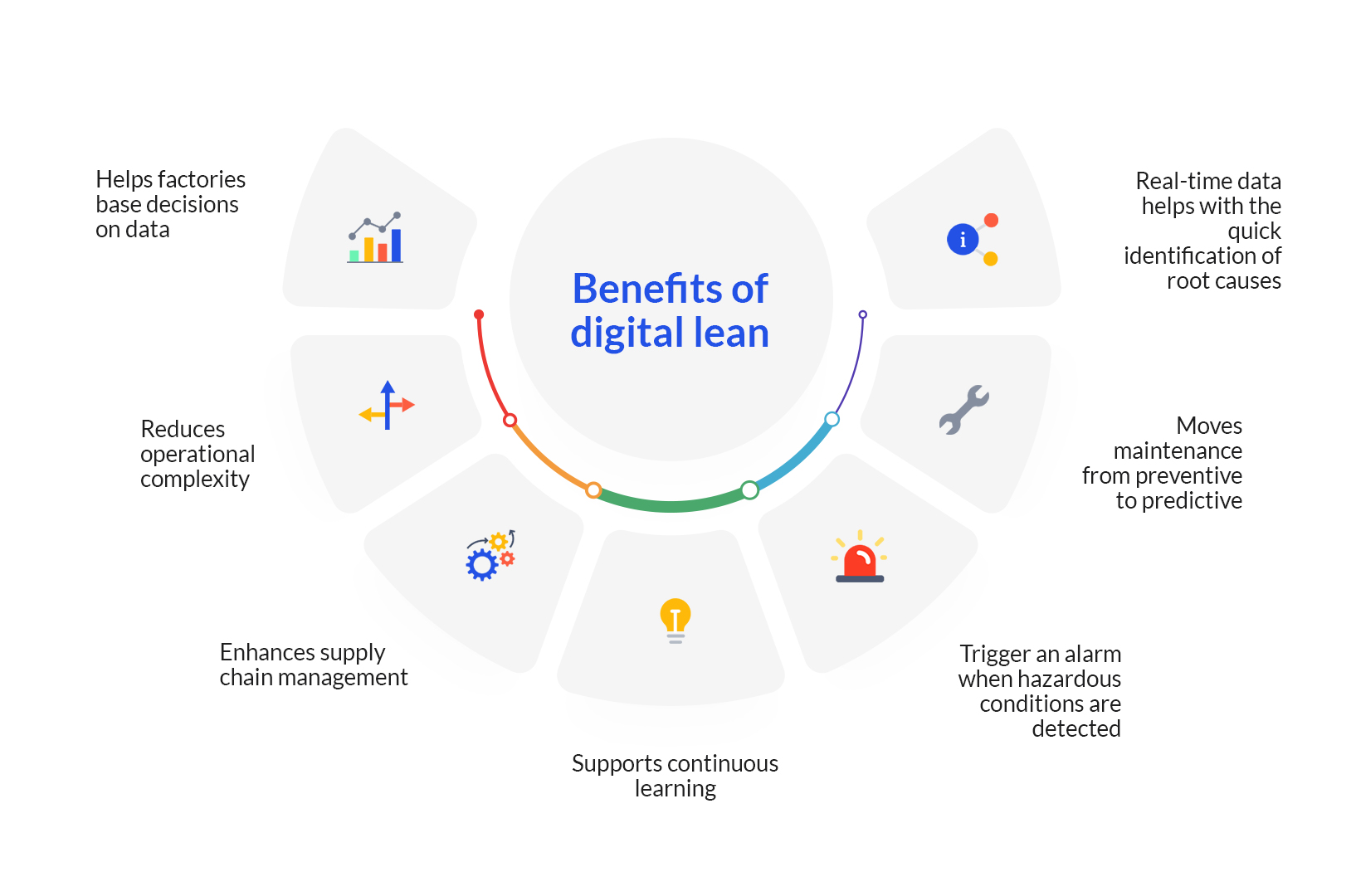 Some benefits of digital lean 
49% of leading companies invest more in digital than their counterparts, while 90% of lagging companies invest less in digital than their counterparts
It helps factories base decisions on data (by shifting decision making from one rooted in experience and judgment)
It reduces operational complexity on the shop floor
It enhances supply chain management – going further than traditional methods in allowing factories to pre-empt market conditions and avoid empty shelves/ unfulfilled orders
It supports continuous learning through data
Sensors, a feature of digitalization, can monitor working conditions and trigger an alarm when hazardous conditions are detected
It moves maintenance from preventive to predictive
In the case of product defects, real-time data helps with the quick identification of root causes
How to implement digital lean 
There are two important requirements for digital lean to work:
Standardized processes have to be put in place so that accurate data can be gathered, 
Platform solutions should be installed so that the collected data can be integrated across all systems, centralized, and analyzed en masse
As in digital transformation, digital lean requires that buy-in of manufacturing personnel be secured before implementation. For effective change management, workers should be educated on the benefits of digital lean, and the value it holds for their individual jobs. They should also be engaged throughout the implementation phase. After securing buy-in, factories can proceed to select a peculiar operational challenge that can be overhauled under the lens of digitalization tools. Here, the problem to be 'solved' should be clearly defined and chosen in an area where already existing infrastructure supports the deployment of digital solutions. Picking a specific problem will also allow manufacturers to focus on value (as opposed to technology). They can adequately train their resources, and monitor the results of digital lean – instead of being inundated by so much, and not achieving anything.
To minimize risk, digital lean can be started out with small-scale pilot programs where the conditions and variables are controlled. The pilot can form the basis for further iterative learning and scaling.
See also: Top 4 reasons why companies fail at digitizing field operations
Why Maximl? 
Maximl's Connected Worker Platform enables rapid digitalization of manufacturing plants: with solutions fully operational in a matter of weeks. Our digital platform solution can integrate with a variety of systems, can scale with factories, and possesses the centralization bandwidth to house large volumes of data.