Organizations are turning to digital solutions for their deskless  workers at a rapid rate. And many are failing just as rapidly. In most cases, failure can be attributed to inhibition from the last-mile – the deskless workers on the field who are opposed to technological changes and would rather continue the old way. In this article, we consider 4 extensive reasons why digitization fails in the last-mile and how your organization can better navigate the murky waters to transform field operations.
Deskless workers, the 2.7 billion people that power global industries are now belatedly being provided with the digital solutions that they require. Compelled by the Covid-19 pandemic, many organizations have been left with no choice but to intensify last-mile  digitization for communication, collaboration, and safety compliance. As a result, bottlenecks are more quickly resolved, with productivity levels sustained (or surpassed), despite the pandemic.  Besides, workers have a more positive experience as they are equipped with tools to safely perform their best work.
But this is half the story.
The reality is that many factories – regardless of the 'quick wins' – are running unsustainably without a road map. Some are digitizing in silos, with un-scalable technology not linked to business goals. And others are carrying along uninterested field workers who have little motivation to support the initiative. This is a recipe for failure.
Furthermore, as Ford and several high profile companies have found out, the digital transformation journey is littered with traps and risks. And no matter how plain sailing your transformation journey may seem, you should keep abreast of the trends and look out for ways to improve.
Four reasons why companies fail at digitizing field operations
Disorganized top-down communication
Employing inadequate solutions for field workers
Doing too much too soon
Lack of integration as you scale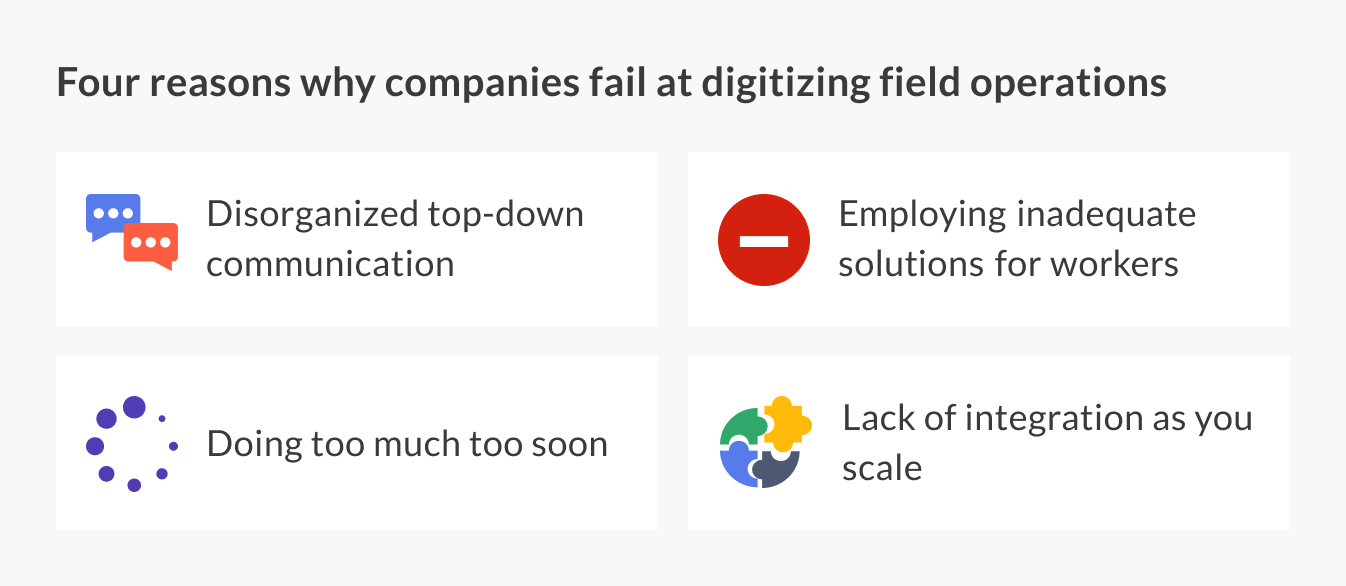 1. Disorganized top-down communication
For decades, industrial organizations have followed a top-down or vertical approach to communication as opposed to more inclusive horizontal methods. This has led to a motivation challenge for field workers who cannot embrace technologies they do not fully understand. The reasons can be further broken down:
Chaos: There exists a significant gap in those who design procedures and those that execute them. C-suite and managers are often disconnected from the shop floor and the field. When they decide to make changes or implement new solutions, the information is passed around in clunky paper format and through multiple levels so that by the time it reaches the last-mile, the effect is lost altogether. As a result, digital solutions that were meant to standardize operations end up causing confusion.
Apathy: In addition to the disconnect between field and office, the lack of effective communication strategies may make field workers feel undervalued. They are left alone to figure out why they're doing what they're doing or how it benefits the organization and themselves. This may induce attrition and lead to additional recruitment/ onboarding costs. That is if the company manages to find new skilled hires. According to a 2018 Manufacturing Workforce Report, a whooping 99% of companies struggle to do so.
Managers need to participate in the digital transformation of field workers with real-time communication and support throughout the course of the journey. The value of field workers should be underlined with easy access to whatever information they will need to succeed. This may be through direct line of access to a delegated manager or answers to frequently asked questions made available through a centralized, digital knowledge base.
2. Employing inadequate solutions for field workers
Many existing digital solutions are built to capture transactional data – like when an on-field worker checks into the job site or how many hours they have worked. These transactional solutions present no value to the worker. And when there is no value to be gained, workers will be reluctant to adopt and adapt to field digitization.
In contrast, digital solutions that empower field workers to do their job more efficiently – like save time, avoid reworks, and reduce burdensome paper-work will be enthusiastically adopted by workers. As will solutions that are easy-to-use, visually interactive and can be configured to support different use-cases with limited onboarding.
It goes without saying, digital solutions should also be mobile friendly and enable offline connectivity.
3. Doing too much too soon
An oft-cited business strategy is to think big, start small and scale quickly, and this is especially true for digitizing field operations. You cannot transform the entire organization at once and should instead focus on digitizing processes one step at a time. Emphasis should be shifted from quantity to quality of digitization and its relevance to business goals.
Let's consider Procter & Gamble. The consumer goods giant invested in digital transformation in the early 2010s but quickly ran out of steam with an untargeted and rushed approach proving their undoing. Their digital bets didn't pay off quickly enough to counter the financial drain on the other aspects of the company. And before long, the systems began to cost a lot more in maintenance than they provided in value. Procter has since adjusted its strategy and has begun to see positive results.
Procter's case shows that, as in a marathon, the best course of digitalization is to observe the pace and get to grips with the action before charging ahead.
4. Lack of integration as you scale
Multi-siloed point solutions are the bane of many digitization initiatives. As an organization grows and scales up its digitalization, these digital solutions cannot be integrated with the rest of the company, and managers are quickly left overwhelmed with disparate data points. For field workers, their jobs are made even more difficult as they have to juggle unintegrated technologies in different systems and formats.
Fortunately, there's a better and more cost-effective option in integration-ready solutions. With digital solutions and platforms, integration is allowed with existing systems and workers don't have to worry as they can collaborate under a single digital canopy and work with a unified version of truth.
Why Maximl?
Maximl's vision is to empower the industrial deskless workforce with digital technologies and increase productivity via seamless collaboration in the workplace. Our Connected Worker solutions improve operational efficiency, and safety and quality compliance to help clients turn opportunities into business value.
Maximl can rapidly digitalize last-mile workflows to:
Transform paper-based documents into a step-by-step guide
Embed safety into the daily work routine
Streamline inter and intra-department workflows
Integrate proactive risk reduction into operations
provide real-time visibility into compliance