Despite advancements in technology and increasing sophistication of systems, frontline workers, have not always been aided with tools to perform their best work. In manufacturing, for instance, these workers remain an essential part of work processes and are often tasked with handling complicated procedures in hazardous environments. In this article, we explore what a Connected Worker Platform is and examine its applications that are now assisting manufacturing field workers. We also look at the benefits that these tools hold for factory floors.
Connected Worker platforms are tools designed to evolve the way humans work in manufacturing. They're built precisely to improve communication and control in highly complex, highly variable industrial contexts – Forbes
Sometimes used interchangeably with augmented worker solutions, Connected Worker platforms harness the power of modern technologies to deliver insights, communication, and process optimization to shop floors. The solutions break down geographical barriers – en route to connecting over 500 million industrial deskless workers with tools to work safely and still retain productivity.
Principal elements of a Connected Worker platform:
Internet of things
Robotics
Automation
Artificial intelligence and
Blockchain technology
In manufacturing, Connected Worker platforms have instigated the birth of connected field workers, connected engineers, and connected executives – adding tremendous value from one end of organizational chains to the other. For executives, the platform provides consummate visibility that enhances the quality of decisions in areas like resource optimization and revenue allocation. They connect field workers to a support network and requisite information to effectively perform complicated jobs, regardless of the stakes. And for engineers, Connected Worker platforms support them to tackle modern manufacturing systems with ease.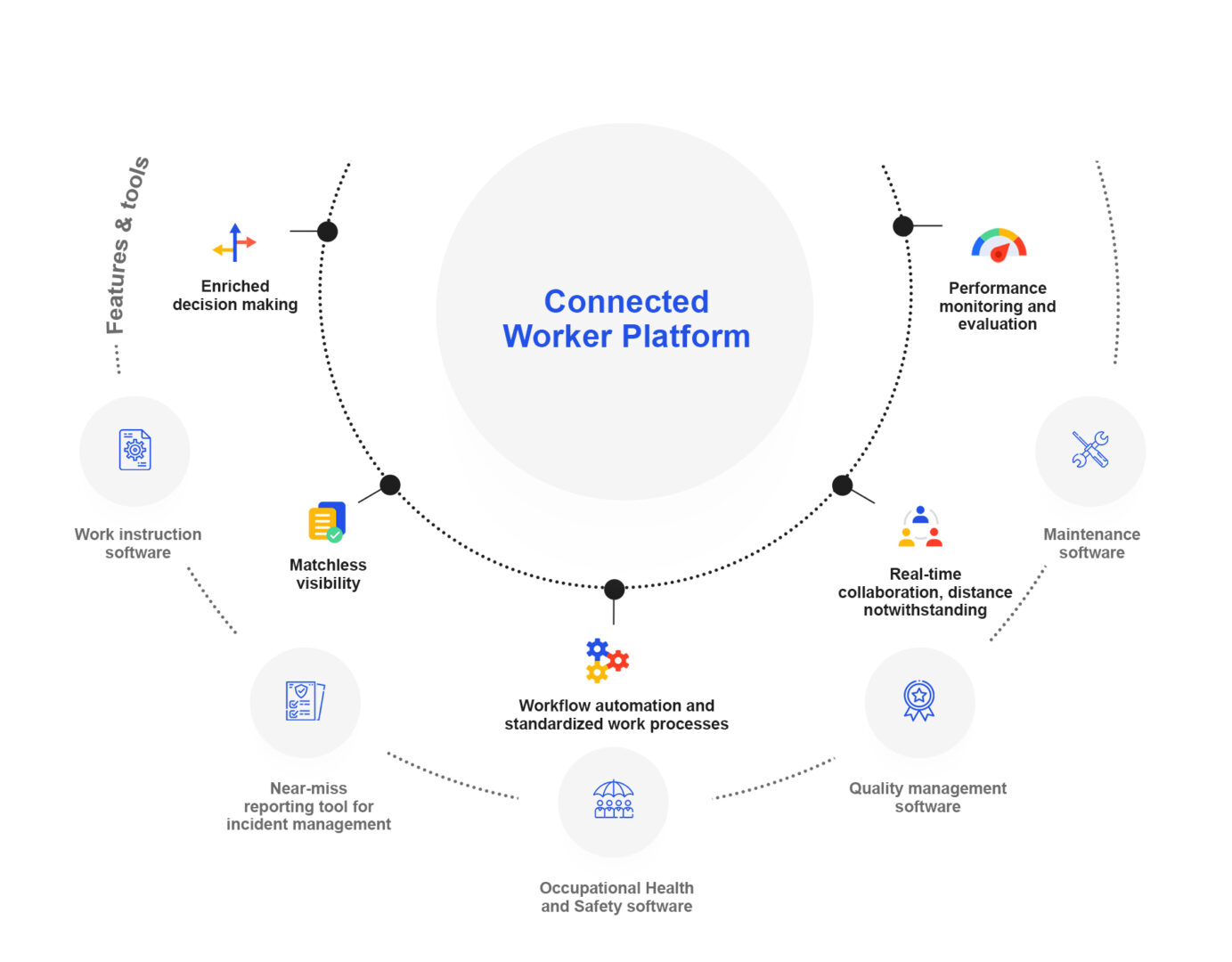 Why you need Connected Worker platforms in your factory
Besides an aesthetic appeal and rich user experience, Connected Worker platforms also render operational benefits in areas like the safety of personnel, quality of finished goods, and maintenance of factory assets. Here, we examine a few of these benefits:
Enriched decision making
Matchless visibility
Real-time collaboration, distance notwithstanding
Workflow automation and standardized work processes
Performance monitoring and evaluation
Enriched decision making
By automating data collection and providing a repository for data centralization, Connected Worker solutions ensure that data, no matter how seemingly irrelevant, do not waste away. The consequence is more data, a 'fuller' analysis, and a stronger basis on which patterns can be established and decisions made.
Matchless visibility
Top managers, empowered by a Connected Worker platform, have a stronger outlook: internally on the factory floor and externally across the length – vertically and horizontally – of the supply chain. The more encompassing outlook presents a greater insight which aids asset management. And working off these insights, the factory can continually affect improvements in their plants, adapting (and thriving) even in a changing manufacturing landscape.
Real-time collaboration, distance notwithstanding
A key feature of Connected Worker platforms is the seamlessness it brings to communication and collaboration. Workers are aligned to the strategic direction of their factories at all times with instant notifications from individually customized dashboards. Furthermore, using technologies like augmented work instructions, beacons, and connected displays, managers can provide virtual support to assist field workers in the performance of complex, high-stress, and potentially hazardous jobs.
Workflow automation and standardized work processes
Connected Worker platforms enable factories to digitize SOPs, guides, and instructions in an easily digestible format. The documents can be updated without recalls, ensuring that the manufacturing process does not deviate from the specified format. Moreover, compliance with these instructions can be monitored and enforced, unlike in paper-based SOPs where 'cutting corners' can often go unnoticed.
In addition to the aforementioned, the support of Connected Worker technologies helps new workers perform a greater quality of work (with minimal errors), reducing the training need on the part of the organization and plugging the skill gap.
See more: How to build great Digital Work Instructions for standardization
Performance monitoring and evaluation
Connected Worker platforms connect operators to their systems. It achieves this by 'creating an ecosystem of connectivity' between machines, workers, and the manufacturing supply chain. The ecosystem is overseen by IIoT and cloud computing technologies.
Managers can use the stored data on the cloud to evaluate asset performance, review the success of current strategies, and project-manage to excellence.
See also: How a Connected Worker platform impacts key performance metrics
Features, tools, and related solutions of Connected Worker platforms
Work instruction solution
Near-miss reporting tool for incident management
Occupational Health and Safety solution
Quality management solution
Maintenance solution
Why Maximl?
Maximl's Connected Worker Platform is built to drive adoption among deskless workers and reduce variability on the field. Our no code platform hosts a powerful suite of mobile-first solutions that are customization-friendly and scalable.
✅ Digitize thousands of rigid paper-based SOPs and convert them into interactive work instructions that can be deployed within weeks.
✅ Trigger corrective actions based on deviations recorded in key metrics.
✅ Conduct digital inspections across the value chain – from industrial assets, workshops, warehouses, to contract partner locations.
✅ Leverage rich analytics to continuously enhance workforce performance with the digital implementation of Kaizen, Six Sigma, and Lean initiatives.