Connectivity will be a key component of the factory of the future and Connected Workers will be the enabler. However, choosing the right solution to connect and integrate your workforce can be an arduous task. So, what is a Connected Worker solution and how do you know which one is right for you? Let's find out.
Connected Worker is an IIoT powered solution that unifies the many different operational processes and stakeholders of an industrial organization. This 'connectivity' is a key component of the factory of the future and is no longer a good-to-have but rather a necessity. In order to promote a safe working environment, service larger demands, and control compliance and quality, everyone – from field workers to executives, should be connected and in sync. Nothing less will do.
'Having an engaged workforce should be a primary goal in every organization. We're in a period of rapid technology change and growth and we need every employee to come to work ready to contribute' – DeAnne Beogli, National Public Relations Manager at TDS.
Connected workers are not only 'ready to contribute' at work, but are happier and feel more engaged with their organization. And, Connected Worker solutions enable this by offering collaboration tools within a single digitized ecosystem or workspace. However, not all solutions are created equal and an incomplete one is as good as no solution when it comes to enabling connectivity.
With that said, this article highlights key features of a good Connected Worker solution.
Six key features to evaluate a Connected Worker Solution
As mentioned earlier, an incomplete solution is no good. Thus, let's look at the features of a comprehensive Connected Worker solution that you need to evaluate when choosing the best fit for your organization: 
Intuitive mobile experience
Online & offline connectivity
Real-time communication
Remote guidance
Digitized processes
Data analysis and insights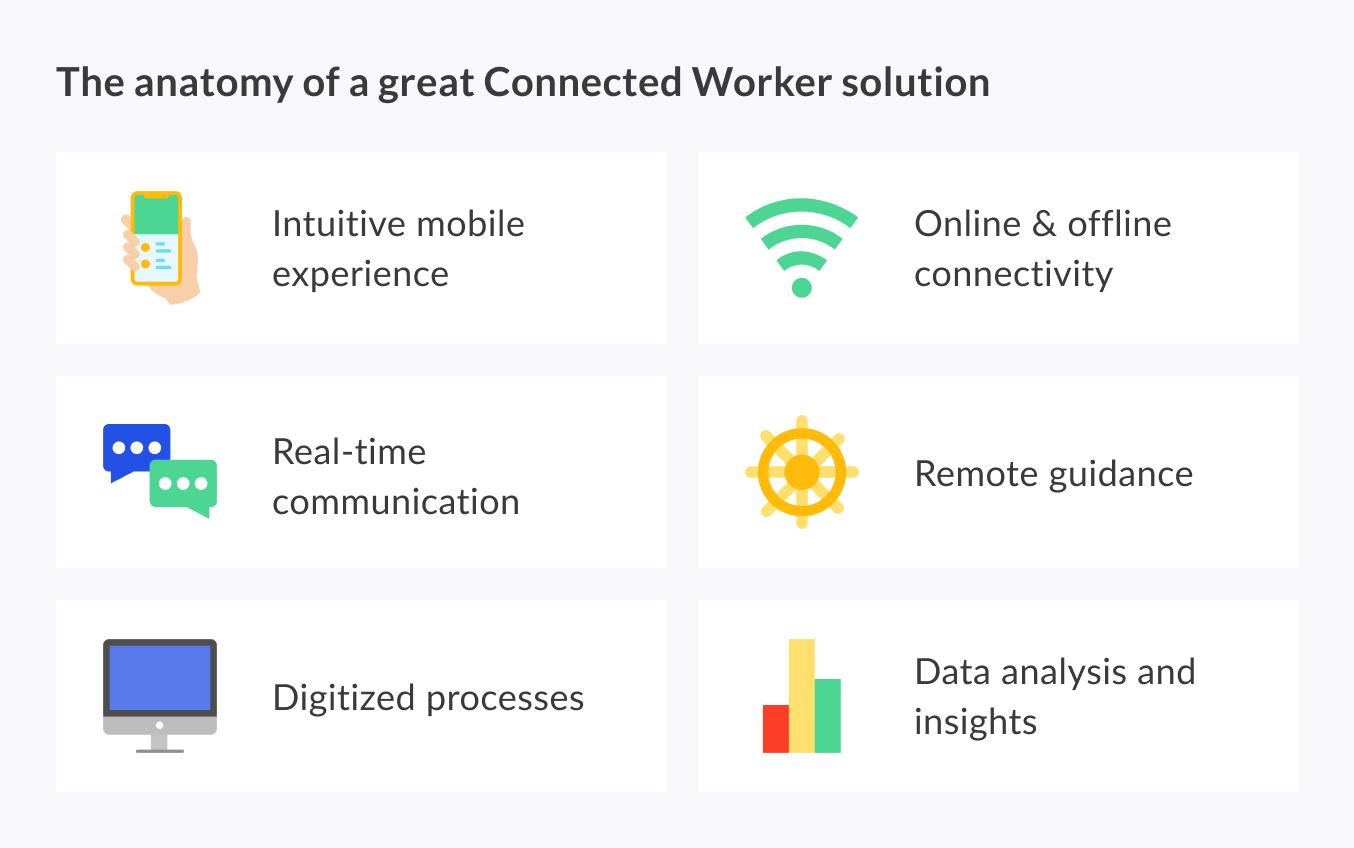 Offers an intuitive mobile experience
Huge stacks of overwhelming paperwork or boring excel sheets only contribute to the information surplus and cause stakeholders to mentally 'switch-off'. Paper is unappealing, time-consuming, and may not be able to provide critical information during high-stake events.
A Connected Worker solution allows you to store information digitally and present it across teams and channels on any mobile device. This feature is vital because workers need to keep track of information coming in from many sources and often, on the go – new jobs being created, machinery status, job progress, safety requirements and certifications, etc.
A Connected Worker solution should successfully integrate these different systems, tools, and processes while maintaining an intuitive and appealing mobile interface. It should be visually rich, ultra-responsive, and have search and filter features for quick access to archived information.
Enables secure and flexible connectivity
A great Connected Worker solution should NOT be solely dependent on WIFI or network connections for functionality. This is very important, more so for deskless workers who often work or travel through remote areas.
These workers should be able to receive information on assigned tasks, emergency notifications, or safety guidelines on the go, without having to climb a tree or travel for miles for connectivity. Workers should be able to share critical information from anywhere, whether online or offline.
Moreover, a Connected Worker solution should be able to handle many individual profiles and login credentials to effectively compartmentalize information and manage access to data by authorization.
Fosters real-time communication
The communication gap in industries is wide, especially when stakeholders are distributed across different shop floors and field locations. In some organizations, stakeholders can be working concurrently from as many as six continents. A Connected Worker solution should bridge this gap and enable seamless, real-time collaboration among workers.
Quick communication may be facilitated via audio recordings, video calls, and instant chats – all interloped. Onsite and remote teams can easily conduct digital toolbox talks, exchange status updates, contact supervisors for urgent decisions, and seamlessly collaborate towards the common goal of project success.
Allows remote guidance
Even professionals come unstuck. A sudden memory lapse or misattribution of a particular task may lead to errors that damage machinery, cause downtime, and affect revenue. This, in addition to a shift towards remote work has placed even more importance on guidance and mentorship.
Virtual support is a crucial requisite to enable managers to guide onsite personnel from anywhere and urgently resolve issues as they arise. These solutions can also help conduct remote safety training and refresher courses to keep employees updated and up to skill with the market requirements.
Digitizes processes
The factory of the future is smarter, slicker, and paperless. Paper is unreliable, and for a distributed workforce, especially difficult to get across the shop floor.
As evidenced in an article by ReliablePlant, 80% of employees waste an average of 30 minutes per day retrieving information.
A Connected Worker solution helps companies save time and money by digitizing all paperwork and maintaining a centralized system of digital records.
Important documents like checklists, SOPs, and safety guides can be easily disseminated when digitized and historic records can be quickly accessed by stakeholders. Furthermore, the repository of knowledge in the older workforce can easily be stored and archived for future reference.
Provides rich insights
Data is the bedrock for drawing conclusions and an important asset for decision making.  A great Connected Worker solution should be able to capture real-time data, analyze trends, and convert it into meaningful information for all stakeholders.
Unique insights into man, machine, and material resources can guide stakeholders on the right course of action for a more efficient workplace. Hence, improving productivity and reducing delays and reworks.
In conclusion, digitalization is driving much needed change for the often-neglected deskless workforce. They can now expect a connected worker experience similar to their desk-bound counterparts where workers are well connected across teams and throughout the organization.
This is crucial in industries because factories need up-to-date, integrated, and collaborative workforces to survive and thrive. A connected frontline is a frontline equipped to tackle unforeseen challenges and soldier on to achieve the organization's goals regardless of circumstances.