This article is a brief overview of the key issues that are holding back the evolution of The Deskless Worker into The Connected Worker of Tomorrow.
Communication is key, but what if the lock is misplaced.
For the 2.7 billion deskless workers that make up 80% of the workforce, communication and collaboration is still a challenge in 2020. Even widely adopted tools like Microsoft Teams and Slack are built to serve desk-bound workers.
Deskless workers like warehouse staff, manufacturing engineers, and utilities workers are often cut-off from conference calls and company-wide updates that help organizations stay connected and streamlined. In fact, consistent coordination between field teams and back office is even more critical in asset-heavy industries where teams are often spread across different locations.
Today, new developments in technology and ever-increasing access to mobile devices has led to the emergence of Connected Worker solutions that solve these problems. Yet, businesses remain slow to adopt the same or fail to implement them effectively.
So how is (the lack of) collaboration today preventing the evolution of The Deskless Worker into The Connected Worker of Tomorrow? Let's just take a look.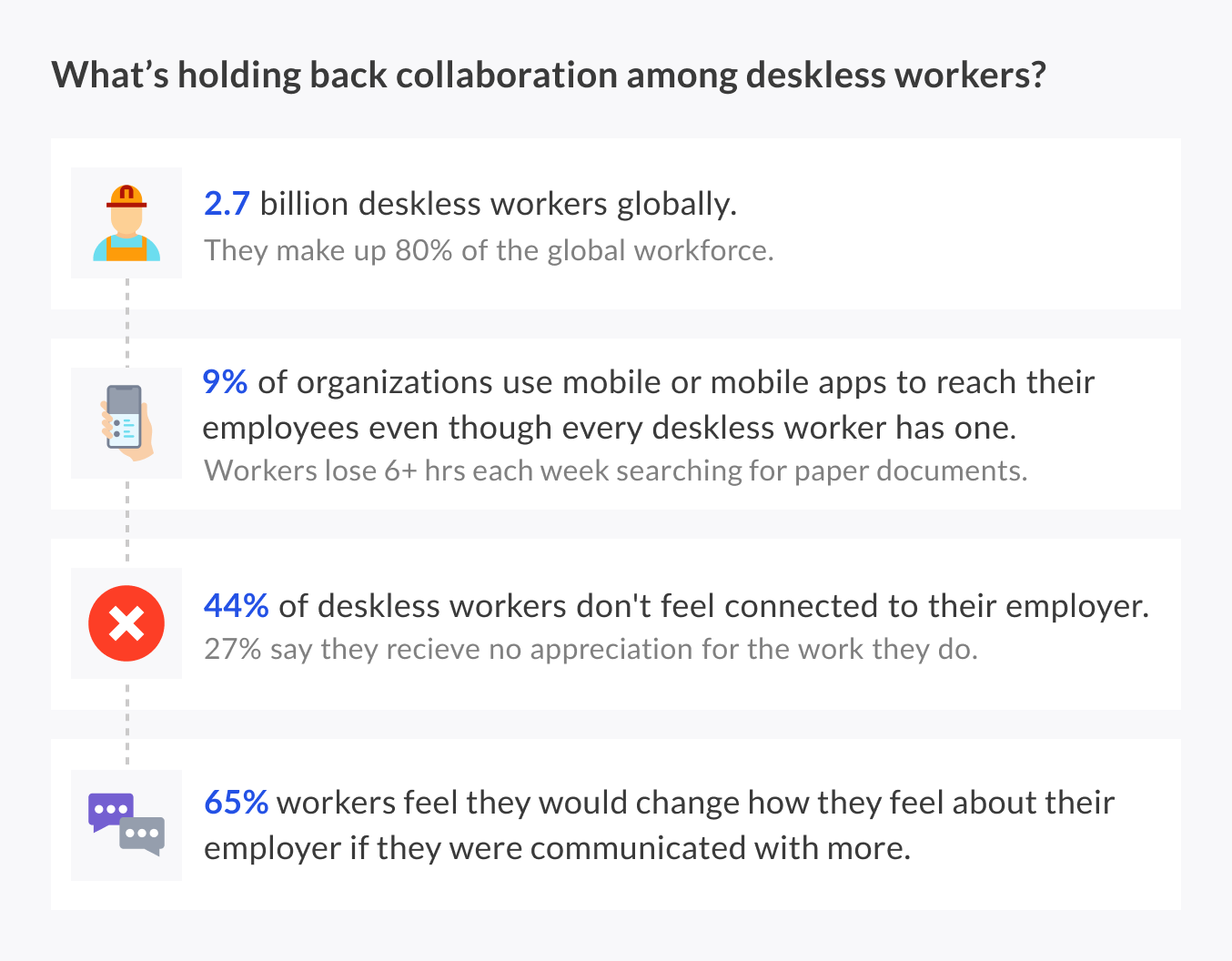 Process: Disorganized data (paperweight)
Much of the data that offers meaningful insight into industrial sites is documented on paper or excel sheets today. This data is often lost or inaccessible due to the sheer volume of paperwork and the disorganized manner in which they are arranged and stored. Besides being difficult to track, it is also hard to read and understand. This lack of traceability further stifles root-cause analysis and leaves little room to learn from past failures and problems.
Digital logging of all data gathered on the field and digitization of safety and operational protocols ensures that critical information is always readily accessible to all stakeholders – whether online or offline. Digitizing knowledge capture and knowledge transfer not only improves efficiency and safety at the workplace, but it also ensures that valuable experiences are not lost when people leave.
Operations: Poor job execution
One of the leading causes of losses in any industry is operational delays and disruptions that contribute to large quantities of capital, time and hard work being lost. Whether due to mismanagement of resources or due to miscommunication between co-workers, the outcome is the same – a loss of time and resources that could have been avoided.
Connected Worker solutions that automate daily workflows and allow effective allocation of tasks will prevent mismanagement and improve resource utilization, thereby dramatically reducing lead times. For example, job data from different sources like IoT systems and ERP schedules can be streamlined and used to auto-create work orders and allocate jobs to the right people.
Attrition: Happy employees, healthy bottom line
Every company, without exception, seeks to attract and retain fresh and bright talent. However, young workers who do not feel a sense of belonging or are unable to receive necessary guidance from their superiors begin to feel disillusioned by the company and question their prospects in it. 
As per an Accenture report, the younger generation of industrial workers bring with them expectations of "constant connectivity, pervasive usage of technology, and peer-to-peer engagement via social media."
A democratized and digitally integrated workplace that lets employees know that they are heard and understood fosters productivity and participation in the success of the company. An engaging and centralized digital platform with relevant field data and a summary of all on-going projects promotes a sense of community.
Integration: An umbrella view of the system
Deskless workers frequently receive incomplete and inconsistent information regarding projects and tasks. The primary reason for this is a lack of integration between different business systems like ERP/EAM, EPPM, HRMS, LDAP, IoT, and other legacy systems. This fragmented data offers inconsequential insights that impede decision-making and coordination among teammates.
A Connected Worker solution that unifies data from different processes like operations, maintenance, development, EHS, etc, and provides visibility into their associated workflows will not only help increase efficiencyamong workers, but will also allow managers to make data-driven decisions at speed.
Summing it up 
Connected Worker solutions and other digital innovations in AR, VR, blockchain, robotics, and more are transforming the way deskless workers interact and collaborate, bringing forth a digital revolution. These open communication platforms now enable quick access to information and seamless coordination, allowing workers to break through organizational silos. The goal of any Connected Worker solution must be to democratize deskless work and level the playing field for deskless workers.
Feel like one or more of the above obstacles is getting in the way of workplace collaboration and productivity at your organization? See how Maximl's Connected Worker solution can help.