While desk-bound employees embrace remote work in the midst of the pandemic and virtual offices become ubiquitous, the deskless workforce is also adapting to a fast-evolving work environment driven by digitalization and automation.
A CDC report shows that as of April 27, 4,913 meat and poultry plant workers in 115 plants in 19 states were diagnosed with COVID-19 and 20 of these workers had died. The impact of this report spurred the closure of more than 20 meatpacking plants in the United States. The factory closure, not only affected the livelihood of these workers (making some of them redundant) but instigated a national shortage of meat and poultry.
This occurrence is not unique to the food industry. Across critical infrastructures, COVID has wreaked havoc, upsetting the supply chain in many industries and affecting the workforce in ways beyond calculation.
Now more than ever, it is incumbent on heavy industries to scale up their digital initiatives. The gradual and reluctant digital transformation pre-COVID will no longer suffice if manufacturers are to remain in business and if their workers are to remain safe. Many industries are already adapting to this reality and have moved fast to employ more digital assets, digital usage, and equip their teams to be digital workers.
Three key digital initiatives:
Contactless collaboration
Accelerated automation
Continuous safety and compliance monitoring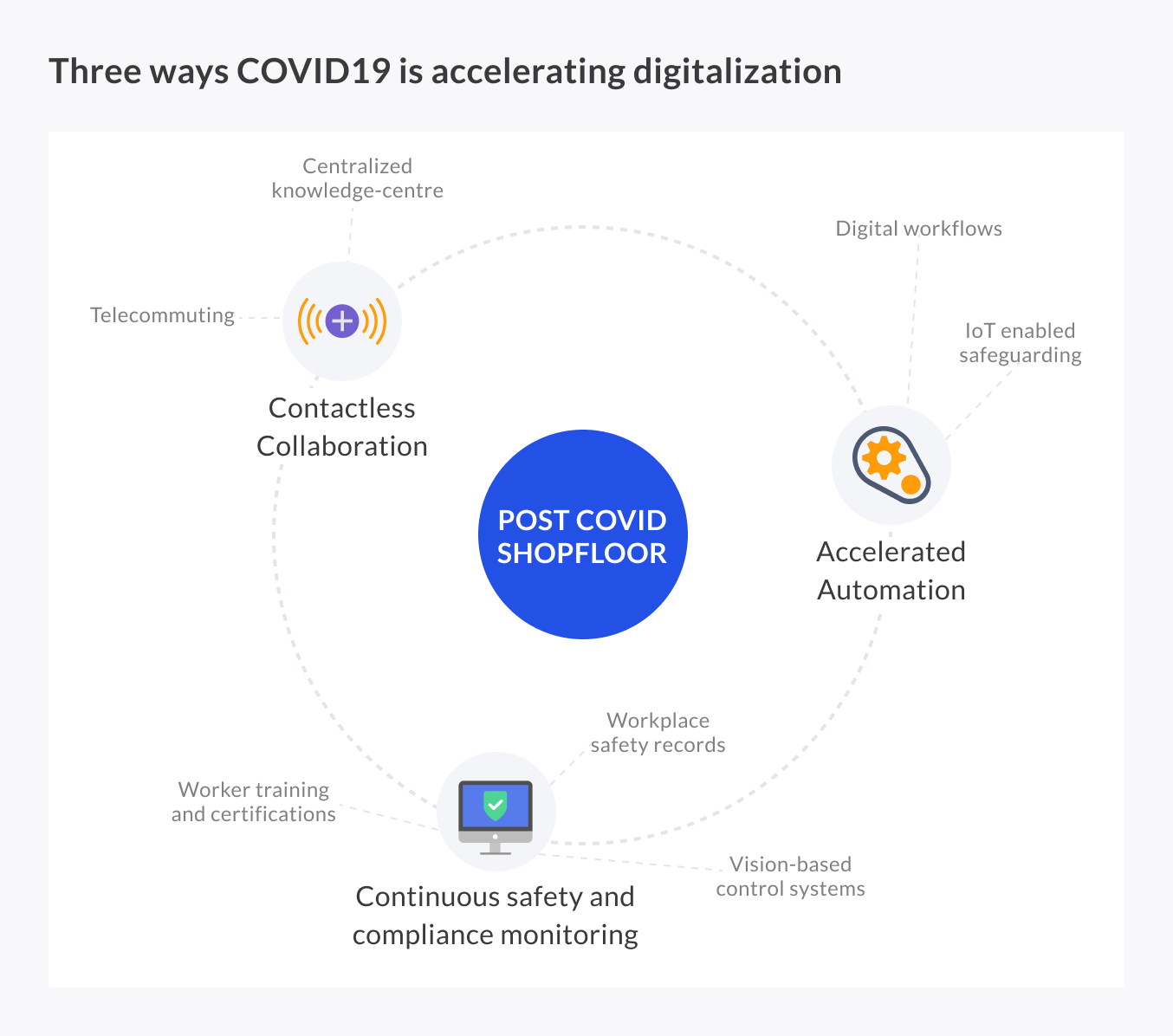 Contactless collaboration
Businesses have moved quickly to digitize archaic paper-based guidelines so they can be disseminated across the organization without endangering the health and safety of their workers.
During such challenging times, workers seek guidance from their superiors and want to stay connected with their teams. Such open and timely communication is made possible via digital solutions like connected worker platforms. 
Besides containing the spread of the virus, connected platforms also facilitate real-time collaboration and insight sharing. The collective brain of the talent pool propels timely decision-making and enhances workplace productivity.
Centralized knowledge-centre: A centralized ecosystem makes COVID protocols easily accessible to all workers and shows them that their safety is of utmost priority. Workers can access safety resources any time from their mobile devices and report any safety concerns immediately. For managers, staying connected with their teams on the shop floor ensures they can communicate any changes in a timely and effective manner. They can also capture digital signatures on mobile devices and scan QR codes to track attendance and signoffs.
Telecommuting: During this time, it is crucial that workers do not feel left alone in the deep end. Since, facilities are being limited to critical workers only, the responsibility lies with management to keep their entire team(s) connected and provide supervision to field teams when needed. With video collaboration on mobile devices, superiors can guide workers remotely and communicate in real-time with the shop floor. Digital toolbox talks allow workers and managers to collaborate from anywhere to resolve issues as they arise.
Accelerated automation
The pandemic has forced industrial players to fast-track automation programs and move towards industry 4.0. During this period, industrial robotics, AI-powered predictive maintenance, and IoT enabled inventory management has gained entrance into factories around the world. This has allowed automation of repetitive tasks and turbocharged workplace efficiency.
Moreover, safety sensors track asset performance data and sends automated triggers when any unusual activity is recorded. Here's how automation is enhancing safety across the shop floor:
IoT enabled safeguarding

Remote asset control

: Set up triggers to turn on/off assets and remotely perform LOTO prior to machine maintenance.

IoT enabled asset optimization

: Send data from all your assets to a centralized ecosystem and gain valuable insight from this data.

IoT enabled inventory management

: Get prompt real-time updates from the field and never run out of equipment and materials.
To reduce the congregation of workers in one place, the heavy industry is employing staggered shifts and group customized schedules. The schedules are auto-generated and sent directly to stakeholders' emails or collaborative dashboard. Effectively, workplace density is reduced as workers enter and exit the facility at different times.
Additionally, at the end of their task, remote shift handovers allow workers to exit facilities without unnecessary interactions.
Continuous safety and compliance monitoring
COVID has placed even more emphasis on compliance monitoring. A single worker who contravenes the regulations puts at risk every other person in the facility.
Vision-based control systems: Through video feeds, managers can remotely monitor their job sites in real-time and enforce social distancing rules. Additionally, safety regulations such as regular disinfection (of plant, equipment, and PPE) and a number limit on personnel in isolation areas/confined spaces can more easily be enforced.
Workplace safety records: Digital and centralized logs give stakeholders swift access to data necessary for a safer workplace. For example, daily fever checks are logged in and monitored to ensure that no one with symptoms enters the shop floor. And the 14-day quarantine period of workers who have embarked on essential travel can easily be tracked – pending their resumption.
Worker training and certifications: The importance of safety and compliance training during this period cannot be overemphasized. Digital interfaces enable visually rich and interactive training sessions for workers and managers can easily monitor each worker's progress in real-time and guide them through completion.
The post-COVID shop floor
COVID has made digitalization imperative for survival and even in a post-COVID world, digital initiatives will continue to take center stage across the heavy industry.
Already, digitalization is reducing human error and machine mishaps across the shop floor. With the inevitable advancement in digital technologies, this trend will only continue, leading to significantly reduced accident rates in workplaces. Collaboration will be free-flowing between all teams as an interconnected web of mobile devices and digital tools make knowledge-sharing a breeze.
Further, digitalization will also reduce the length of the supply chain with robotics and automation taking over menial tasks and streamlining production to increase overall efficiency and revenue.
Has COVID19 accelerated digitalization in your workplace? And as you bring your digital initiatives to fruition, what challenges are you facing? Send us an email at sales@maximl.com and let us know – we are here to help!